School Life For Secondary Students
Exciting things are happening in the Secondary Department at Rangiora New Life School. Over the past four years we have seen the number of students in our Year 9 - 13 grow to currently being over 180. In 2013 we added a third Y9 class, which increased the secondary roll to over 200. This means that we are now able to offer a wider range of choices to our senior students and many of our students who previously had to take either a Correspondence or CantaTech Distance Education subject can now take the same course at the school and be taught by one of our 26 fully qualified secondary specialist teachers.
While our Senior School has grown, we have still managed to keep our overall class sizes small. This means that teachers are often able to offer individual teaching and hence cater for the many different needs of the students in their class.
The Rangiora New Life School Curriculum

Is taught by fully qualified, Christian teachers.
Reflects the Special Character of our School.
Is broad based at the Junior Levels to reflect the New Zealand Curriculum Framework requirements.
Allows for specialisation at the Senior Levels.
Encourages multi-level studies at the Senior Levels.
Provides Career Advice programmes and Work Exploration.
Each day begins with a form time where our carefully chosen form teachers encourage the students and pray with them. This helps foster the caring supportive environment which exists in our school.
The increase in numbers also means that we are now able to offer a wide range of sports to our students. In both summer and winter, on Wednesday afternoons, sports teams participate in the Christchurch interschool sports competition, excelling in both boys and girls touch and football. Teams also participate in netball and basketball and as a school we participate in the annual Combined Country High Schools' competitions and CASAFest – a 3 day festival of arts and sports programme for the Area Schools in Canterbury.
If you have any further questions, please do not hesitate to contact me.
Stuart Masterton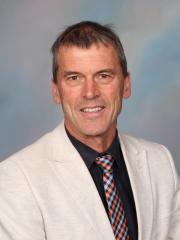 Head of Secondary
Phone (03) 313 6332 ext 712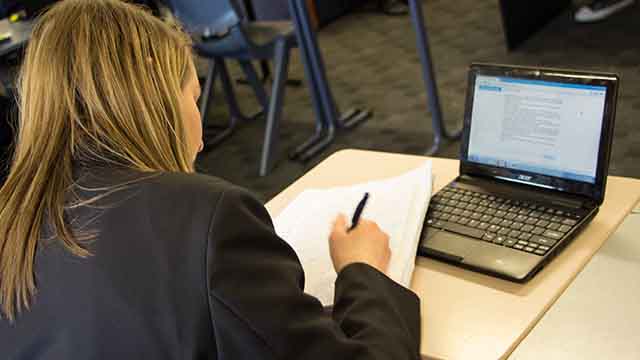 Student working in the Senior school
Students working in the computer lab